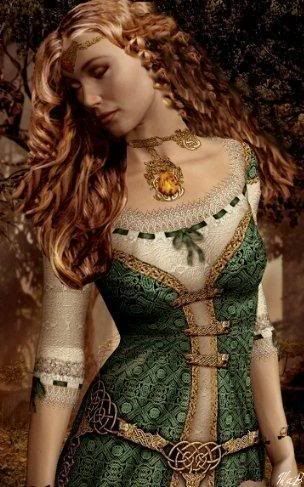 I stood before the fresco
a Muse on a long forgotten red wall.
I had heard the stories
of this ancient beauty rare.
In daylight, it was said
should seekers come
to gaze upon her face
she captures visions
of their hearts and draws them in
with sapphire glance
and beckonings
of distant flute and lyre .
When darkness falls
she dances, lithe grace
under candle glow
and moonlight
So unannounced . . . I did return that night
and sat beneath the willow bent
to see.
And there before me
as the moon passed
soft across the evening cloud
she stepped upon the grass
the red wall watching
and began her ancient dance.
It was then
I heard her voice so pure
like Celtic lilt adrift among the trees
a song to tear my heart forever more.
She sang as if for me to hear:
In my eyes are a thousand faces
Dancing the dance of a thousand years. . .
the music and chants of all the children
dance my dance and cry my tears.
You and I . . . the face in the mirror
You and I . . . the footprints in sand
Born of a rhythm that rides on
Moonbeams,
born with the earth in the palm
of our hands.
Hear the music
that travels the centuries
Find your heartbeat
and hold on fast
You and I . . . just the face
in the mirror
The Song, the Song . . .
is all that will last.
Joanne Cucinello
© 2004