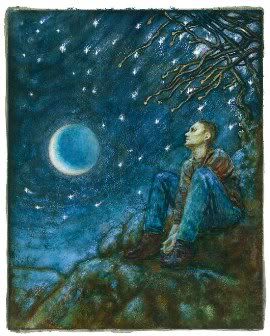 On the dark side of the moon, he lives,
where seeds of time now slumber
And there he roams its canyons deep
in search of motherless souls.
You think it strange...a man in the moon
But ah! .... you know him well.
Since childhood days, you gazed at his face
aglow in eerie silence.
Peering through moonlit curtains
as if he'd called your name to look
And find him smiling there ....or crying
Reflecting all your fears and wonder.
The great globe of light in the midnight sky,
mysterious...yet so familiar
And that face of the man ......turned silver blue
. . . our moonlight contemplation.
Strange perhaps, in these enlightened times,
when moon reflects the feminine,
That I should say.... a man lives in the moon,
but you know.....he does.
Joanne Cucinello