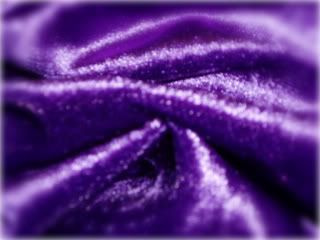 She bought a purple quilt
satin soft and welcoming
a purple river flowing on their bed.
We little ones would run our hands
across it when we walked into that room.
It felt like love.
And sometimes, if a thunder storm was near
she'd bundle us together by the window
and open it wide to see and feel it all
the green and orange awnings flapping wildly
in the wind. Then like a banshee she'd grab
that quilt and slide it off the bed
dancing and twirling till she snatched
us up in it safe and warm
and cuddled us like little birds beneath
her wings . . . and suddenly we were brave.
There we could feel the raindrops
spray as they hit the sidewalk
listen close to rolling thunder in the heavens
and see the lightening flash across the sky.
She'd stand right in the middle telling of the angels
up there bowling strikes with every clash
and there we were . . . a purple quilted bundle,
leaning on the window sill, giggling and squealing
till every fear was gone beneath
that purple quilt and my mother's
arms as if they both were one . . .
Now I wonder, as I'm growing old
if she kept it on that bed to hide
not us . . . but her
and did she see her life untangling
evolving strange and different
moving far away from Dad and us
far away from what was coming
hiding from those demons
who began to dance their madness
in her head and pull her screaming through the door.