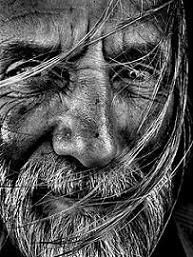 The sun
now ending its long walk
across the sky
peeks again through the willow.
It's quiet now.
She sits by the window
looking at the garden
and this aging man
who once she knew
as lover mate . . .
now more like a child
a lost one at that
but still a man in form
the man she loved
for all these years
who calls her Sally now,
Sally . . . some girl he knew
when he was young.
Sally doesn't live here
and this is not his home
in West Virginia.
He keeps looking for his dog
long dead . . . calling out
"Scotty! Come here, boy."
And she sits and watches
as he clips the branches
of the small bush
that sits alone at the back
of the yard.
She's thinking how like branches
his mind
is being clipped away each day.
Soon
he'll come through the door
yelling and asking why
she's sitting in his house
. . . . and where's Sally?
And the wedding pictures
on the bureau
stare back at him
like strangers
toasting ghosts.
She sits by the window
holding screams
beneath her breath
of frozen tears
and weeps silent
even as the fireflies
begin their dance.
He's lost
the man she loved
locked in some forbidden space
within his mind
growing deeper and deeper away
lost to all who called him friend
and father and . . . Darling.
" I can't find Scotty" he mumbles
teary-eyed through the door
and she cups his face in her tender hands
trying to find him . . . somewhere.
Night begins its close around them
as he smiles and pats her hair
and plants his small kiss upon her cheek
. . . " I love you, Sally."
Joanne Cucinello 2007
~ "He's Gone" received the Award of Excellence in the Winter 2007 Poet's Sanctuary Excellence Award Competition and has been published in "Splash of Verse 2007"~