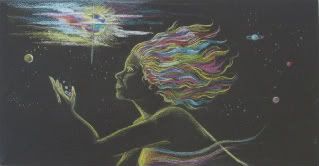 At the edge of my body
lies a rim of gold.
I am encased in light.
I am alive within my soul
which surrounds me
and remembers
who I am.
My feet touch the earth
that I alone inhabit
this speck of space material.
The earth connects me to
the core of my body ~
the sky receives the rays
of my soul.
When I leave this place
I will shed my skin
like an overcoat
my bones will turn to ash
and I will step out
into forever
all my colors shining
my true heart ablaze and ready
for the ride back home
where they will know me
and greet me
like a new born child
arrived with gifts wrapped
into my swaddling clothes
and I will give them all my earthly pearls
the remnants of their grace bestowed.
Joanne Cucinello 2010