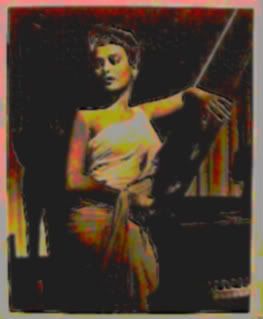 Please understand . . .
when I heard that song on the radio
and you saw me get so dark and quiet
it wasn't you . . . it was the music.
I know it's beautiful,
and I know you love it, but
I begin to drown inside
with every chord.
It moves right in and takes me over
like the cold dark ocean
rolling onto shore.
I change . . .
my heart begins to pound
and my fingers freeze.
I feel like a little girl locked in time.
The music of my mother
the love songs, torch songs
the dark nights and muffled sounds
echoes of a broken heart
crumpled in the corner of a room.
It just begins to happen when I hear
the notes curl downward
like that melody she sang
that never ended . . .
that image of my Mother
in her long black nightgown
lying cold on the floor
while the record kept turning
round and round
the needle skipping
in the same scratched spot
~ till they found her.
Joanne Cucinello 2010