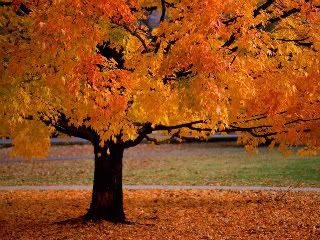 Vibrant crystal days
of autumn sunshine
lift my spirits once again
and call me past my window
to the color feast outside.
There's no place like
New England in the fall!
Crisping furls of frenzy
decorate the path
before me as I walk
and breathe my life today.
"Let go . . . Let go"
say the trees.
They are giving up
their leaves again
the verdant gift
and canopy of shade
I welcomed so this
summer.
Now with brilliant
sunlit tones of fire
the leaves begin their litany
of au revoirs with beauty
unrivaled even
by their birth in spring.
Toppling swirls burst and
crunch beneath my happy feet
ignoring the fact that
soon enough I'll wake bedraggled by
the thought of digging out those
long toothed rakes growing
cobwebs in the shed.
Joanne Cucinello 2009