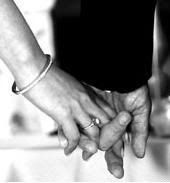 I lie beside you every night so blessed
that I am not alone here in this bed,
that you and I still have each other.
I've come to know the sounds
of your sleeping body
your soft breathing
the shifting of your legs
beneath the sheets
as you turn again to face me
and touch my skin,
your nightly reassurance that
I'm still here.
We are lovers growing old
so familiar now with every hair
and every look that passes
back and forth throughout the day.
At times we read each other's mind
so clearly that I wonder
if we've melded into one new life form
but no . . . we are really just
so familiar.
Joanne Cucinello