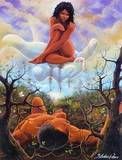 Before the Fall, things were very simple.
Adam went about tending the Garden
and Eve went about cleaning up after him.
The sun always came up in the morning
and rain watered the plants at night.
Things were totally uncomplicated,
since they were told from the very beginning
what they could and could not touch,
what they could eat and what was forbidden.
However . . . even though they both were given
the same orders, it was only Adam who got the
happy task of naming the animals while Eve
had to clean up their shit.
She secretly began to question this setup
if Adam was the one made from spit and dirt,
how did he get to name the animals?
And what was with that funny thing hanging
between his legs anyway? Adam liked parading
it in front of her and telling her it was magic.
He whispered that once he made it grow.
After that, God told him to stop or he'd go blind.
Even so

. . . she was convinced that El Hombre
Little by little, she started resenting
her "duties" in the Garden.
She was tired of cleaning up all that shit
and she was downright bored with Adam
and the stupid names he was giving the animals
like rhinoceros, and hippopotamus.
Suddenly she remembered the juicy red apple
they saw hanging on that forbidden tree the other day
and Eve thought if she could just get Adam to take a bite
So she plucked it from the tree and began to eat it.
Then she dangled it in front of Adam and teased him
saying " Bet you can't take just one bite!"
With that, Adam grabbed the apple right out of Eve's hand
and hid under a bush, chomping the whole thing up and laughing.
That's when he heard the footsteps . . .